Welcome to the Harrier How To… Run An Ultra Guide. Do you have an ultra marathon in your sights? Whether you're upping your distance, or training for a more technical mountain challenge, we've put together all the tips, tricks, strategies and tools you need in one handy pack.
You Are Here…
This pack contains three great modules full of downloadable and interactive resources that will support you as you get closer to race day.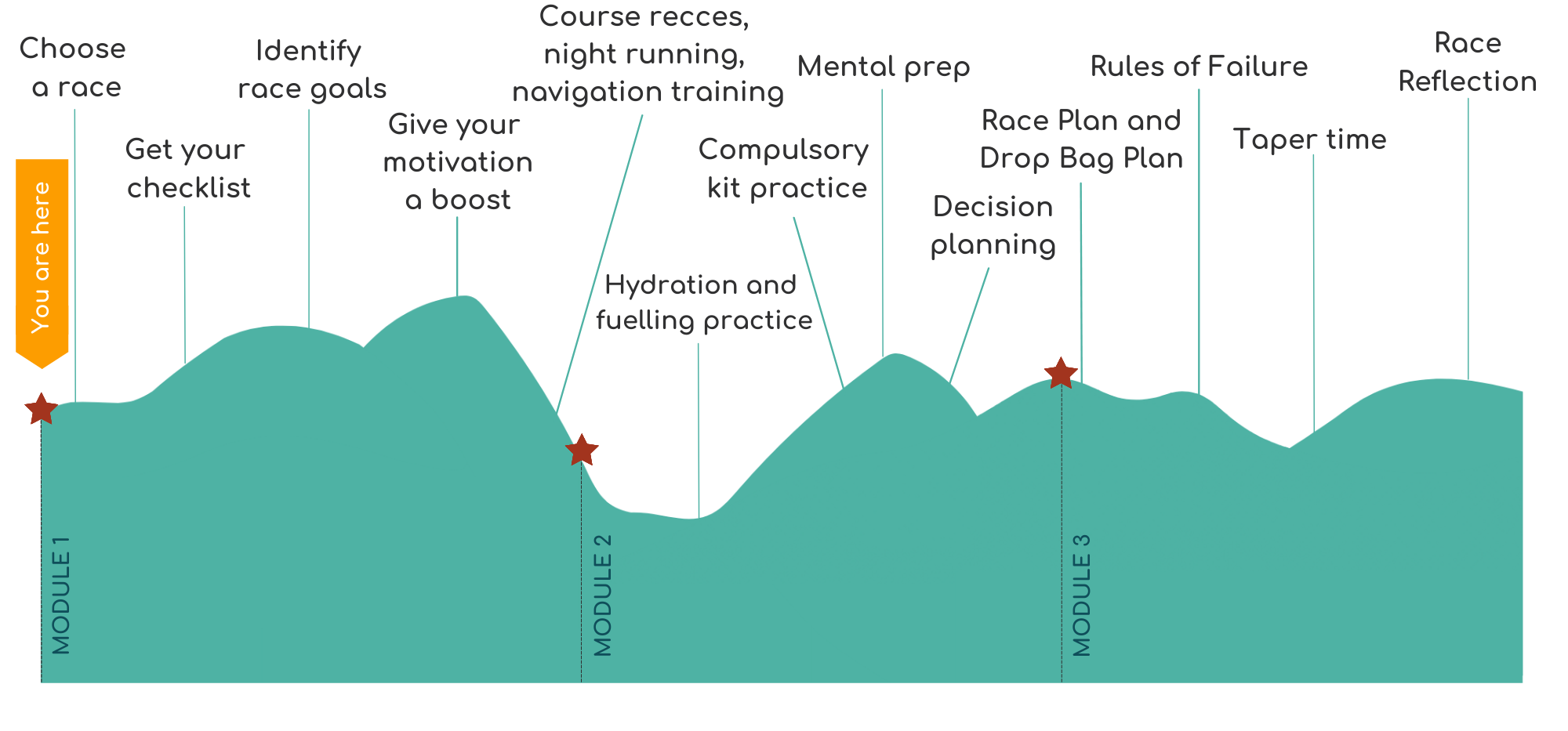 Support Crew
We've teamed up with the awesome Dan Summers and Ronnie Staton who between them have a wealth of experience of running and supporting ultras.
Read more about Dan and Ronnie here…
Dan Summers
Ronnie Staton
To go with this guide, we hosted an online session with Ronnie where he shared some great tips and advice from his coaching and ultra running experience. You can watch the video of the session here
Why

Why this particular event?
When

When is the event? Do you have sufficient time to train and taper?
Supported / Unsupported

Do you want a support crew? If so, does this event allow you to bring your own crew?
Navigation

Is the course marked / not marked? Will you be required to navigate?
Cut Offs

Are there cut-off times for the event? Will you realistically achieve these?
Terrain

Is the event on mountains or technical terrain that require special skills?
Location

Where is the event? Is travel / accommodation easily available? Are there any travel restrictions?
Download Your Tailored Ultra Checklist
Everyone is different, so we've put together a few different checklist options for people. If you are doing your first ultra, upping your distance or taking on a more technical mountain challenge, we've got a checklist to suit you.
SHORTER DISTANCE ULTRAS:UP TO 60K
Shorter
MID-DISTANCE ULTRAS: 60-100K
Mid-Distance
LONGER DISTANCE ULTRAS: OVER 100K OR TECHNICAL
Longer
About the authors:
Dan is a Mountain Leader, Fell Leader in Running Fitness and INWA Nordic Walking Instructor. He has completed a number of 100-mile races and 24hr challenges including the Arc of Attrition and Lakeland 100 (both under 24hrs), the Spine Challenger, the Bob Graham and Paddy Buckley Rounds. Dan loves to run on all surfaces and all distances but the adventure of long distance mountain challenges really inspires him.
He loves to share this passion, and the skills needed to undertake these challenges, with others so they can have their own epic adventures.
Ronnie has been working with goals for nearly 20 years after studying for a BSc Hons Coaching, Sport & Exercise Science Degree. Originally a Personal Trainer working with a range of clientele, he began to see that similar mindset patterns clearly lead to an improved
success rate in achieving targets and individual fulfilment. Over time, Ronnie has become qualified in Cognitive Behavioural Therapy to better help individuals within this non-physical realm.

Over the last decade Ronnie has been working to help physically and mentally prepare hundreds of ultra runners from around the UK, tackling races from 30 miles up to 300 miles.

Ronnie personally loves to run long and he has successfully run across England (190 miles), Wales (250 miles) and Scotland (215 miles) in a non-stop format.